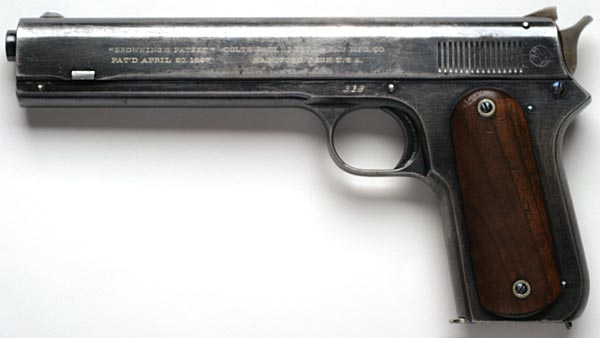 Colt Model 1900 Sight Safety Serial Number 318 - The Colt Model 1900 is the first Browning designed automatic pistol model licensed to and manufactured by Colt Patent Fire Arms Manufacturing Company. This pistol was manufactured in 1900, the first year of production and is the earliest variation of the Model 1900 with rear plunge milled serrations, high polish blue, fire blued small parts and smooth walnut grips.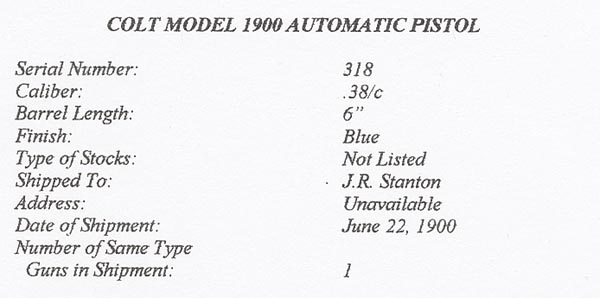 Colt Factory Letter indicates that pistol was shipped June 22, 1900 as a single gun shipment to J.R. Stanton, address unavailable.
Josiah R. Stanton — Appointed Assistant Paymaster, March 25, 1870. Promoted to Passed Assistant Paymaster, November 24, 1878, and promoted to Paymaster, March 26, 1889 ; Navy Yard, Mure Island, August 30, 1870, to September 23, 1871 ; Coast Survey steamer "Hassler," September 8,1872, to January 1, 1876; special service, April 17, 1876, to July 24, 1876 ; U. S. 8. "Dictator," N. A. Station, August 11, 1876, to June 5, 1877 ; "Canonicus," N.A. Station, November 24, 1877, to April 10, 1878 ; New York Navy Yard, November 1, 1878, to May 9, 1879; "Kearsarge," N. A. Station, May 15, 1879, to May 2, 1882; Coast Survey Office, November 1, 1883, to December 31,1886; "Juniata," Pacific Station, June 13, 1887, to March 26, 1889 ; training-ship " Minnesota," April 30, 1889, to December 22, 1890 ; Navy Yard, Mare Island, Cal., December, 1890, to December, 1892; "Mohican," Pacific Station, February, 1893, to date.
From The Records of Living Officers of the U.S. Navy and Marine Corps by Lewis Randolph (p. 324)
Stanton, Josiah R. - Assistant Paymaster, 25 March, 1870. Passed Assistant Paymaster, 25 November, 1877. Paymaster, 26 March, 1889. Pay Inspector, 20 January, 1900.
Colt Model 1900 Right Side - "AUTOMATIC COLT" over "CALIBRE 38 RIMLESS SMOKELESS". Slide featured plunge milled serrations.

Colt Model 1900 left side slide markings - "BROWNING'S PATENT" over "PAT'D APRIL 29, 1897" and COLT'S PATENT FIRE ARMS MFG CO." over "HARTFORD CONN U.S.A." Serial number 318 is on the left side of the frame above the trigger.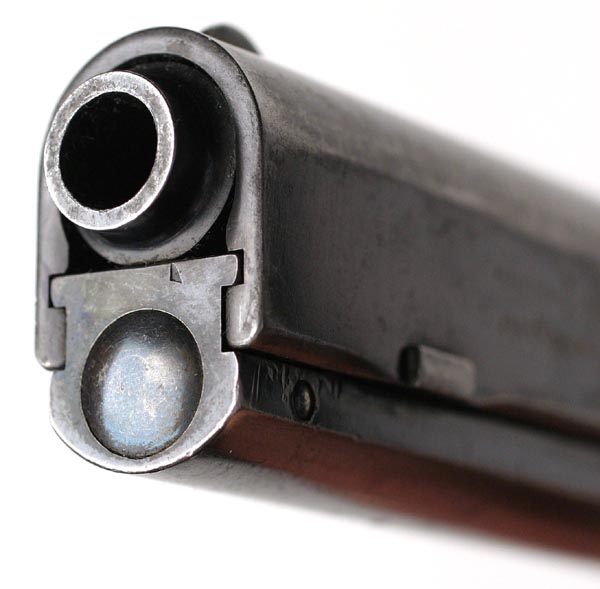 Colt Model 1900 Muzzle - showing early convex forward frame plug with traces of turquoise blue.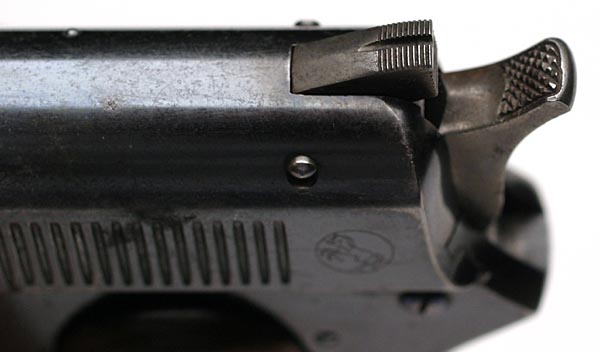 Sight Safety - locked in upward position, this functions as the rear sight. The sight safety and hammer were color case hardened.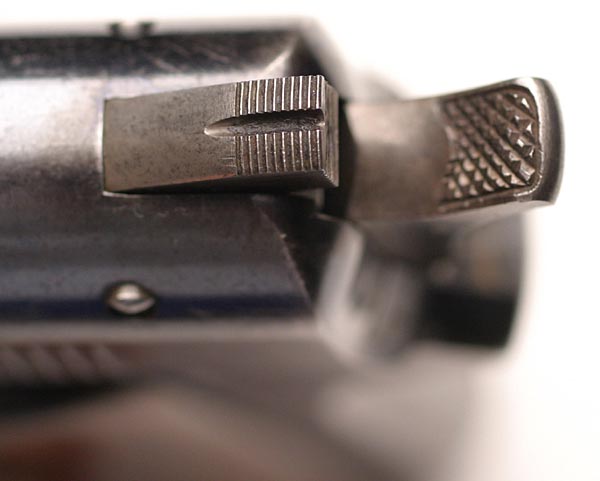 Sight Safety - close-up photo.
Rear of hammer - showing color case hardening.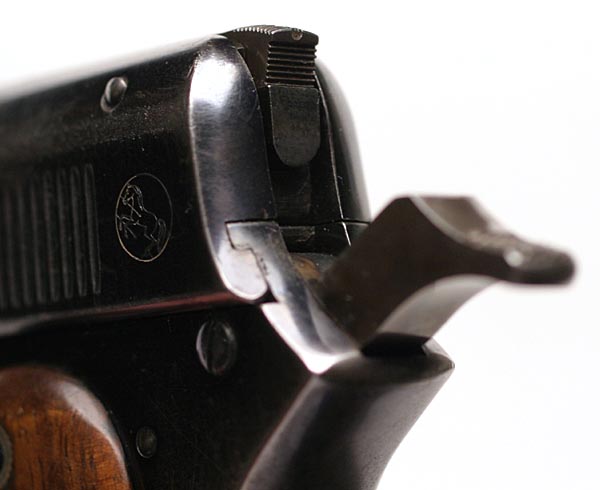 Model 1900 Sight Safety in Safe position - when engaged downward, the sight safety prevents the hammer from striking the iron firing pin.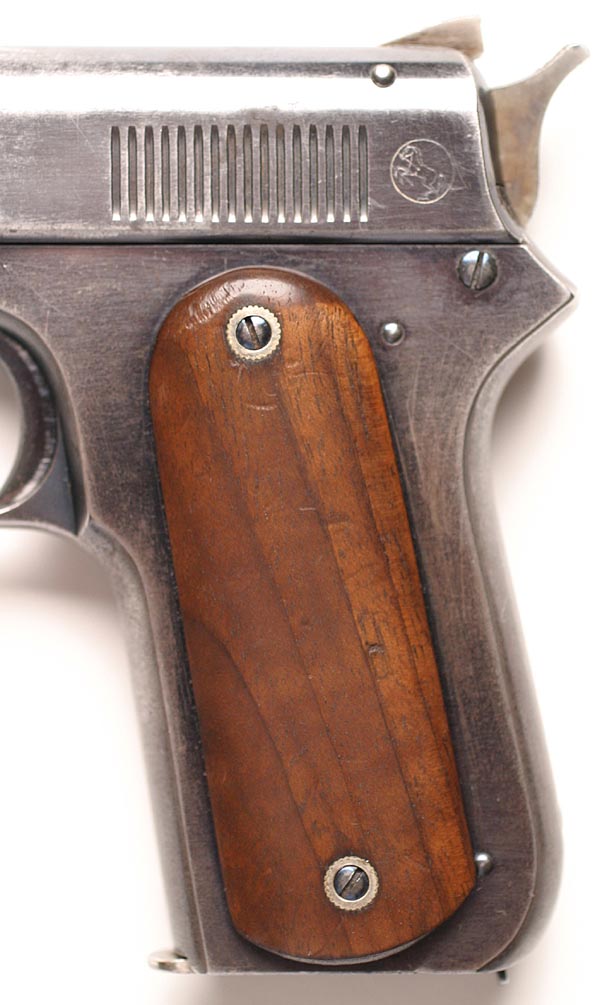 Left grip profile - early Model 1900 pistols were fitted with smooth walnut grips. Grip screws, hammer screw, pins, trigger, slide lock, magazine release and forward frame plug had a turquoise blued finish.
Right grip profile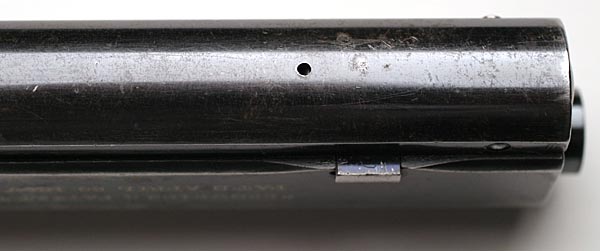 Takedown hole in the underside of the frame - This hole is present on all Model 1900 pistols and on early Model 1902 Sporting Model Pistols.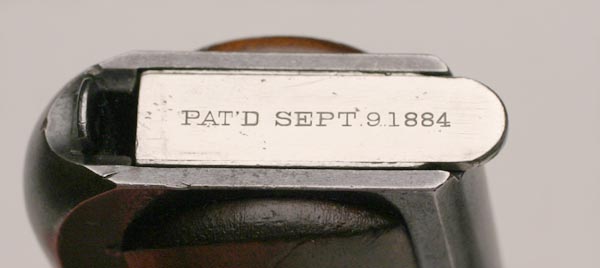 Model 1900 Magazine Base Plate - magazines were full nickel plated and marked "PAT'D SEPT. 9. 1884"