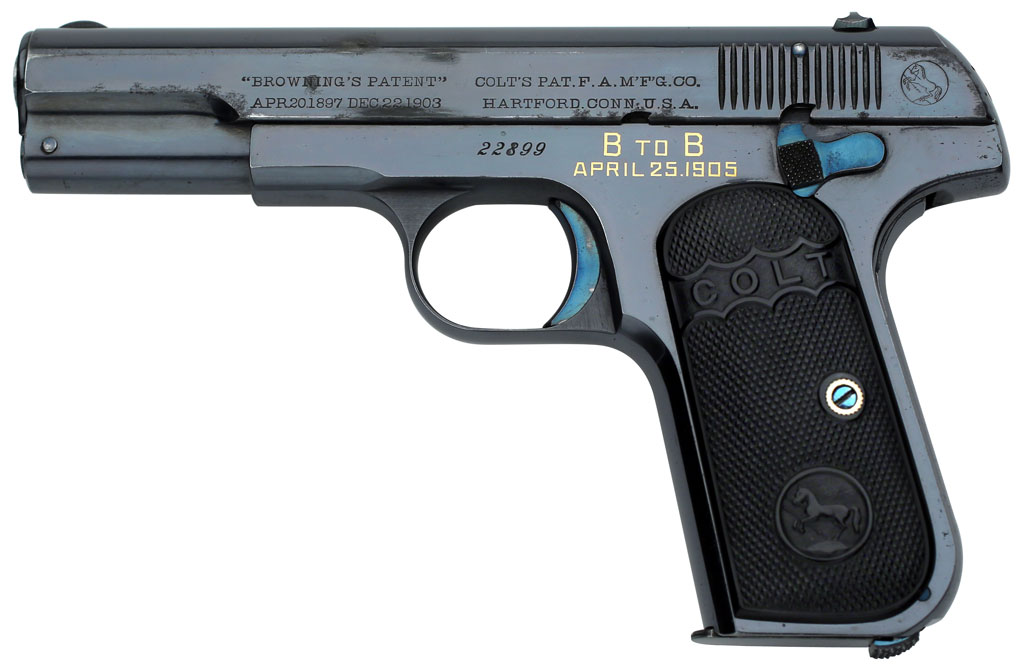 Colt Model 1903 Pocket Hammerless serial number 22899 - Gun is an early Type I with 4" barrel, plunge milled serrations, separate barrel bushing, factory gold inlaid "B to B, April 25, 1905", blue finish with fire blue small parts and Type I hard rubber stocks. Pistol was shipped in a deluxe leather covered Colt casing with place for cleaning rod, spare magazine and sealed box of period Union Metallic Cartridge Company .32 ACP cartridges (ca. 1905)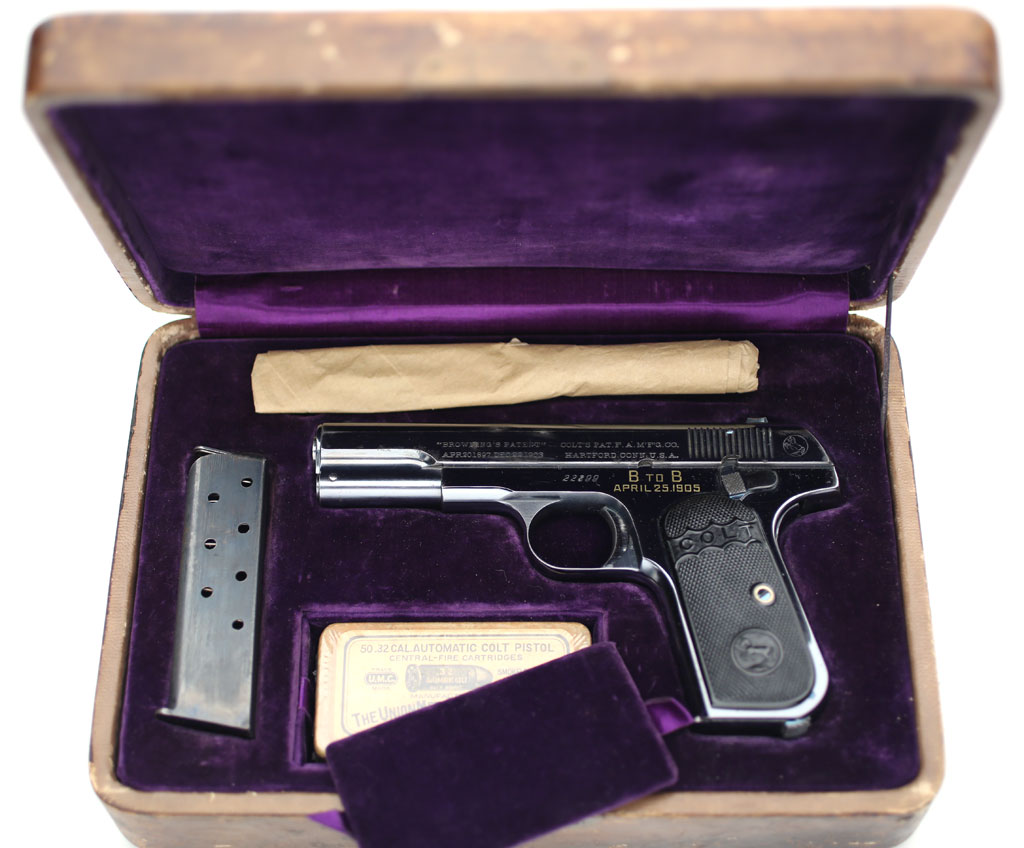 Colt Model 1903 Pocket Hammerless serial number 22899 - Gun is an early Type I with 4" barrel, plunge milled serrations, separate barrel bushing, factory gold inlaid "B to B, April 25, 1905", blue finish with fire blue small parts and Type I hard rubber stocks. Pistol was shipped in a deluxe leather covered Colt casing with place for cleaning rod, spare magazine and sealed box of period Union Metallic Cartridge Company .32 ACP cartridges (ca. 1905)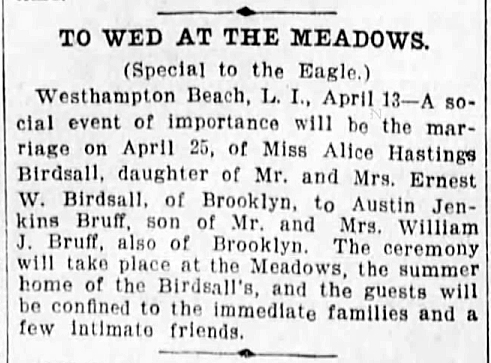 Factory gold inlay is the rarest of all available special order features for pre-WWII Colt pistols. Colt Model 1903 Pocket Hammerless .32 ACP serial number 22899 (ca. 1905), the third of less than 10 factory gold inlaid examples of this model, bears a gold inlaid inscription as a gift to commemorate the marriage of Austin Jenkins Bruff to Alice Hastings Birdsall on April 25, 1905. The couple were married at "The Meadows", the Birdsall's summer home in Long Island, New York in a private ceremony for family and close personal friends.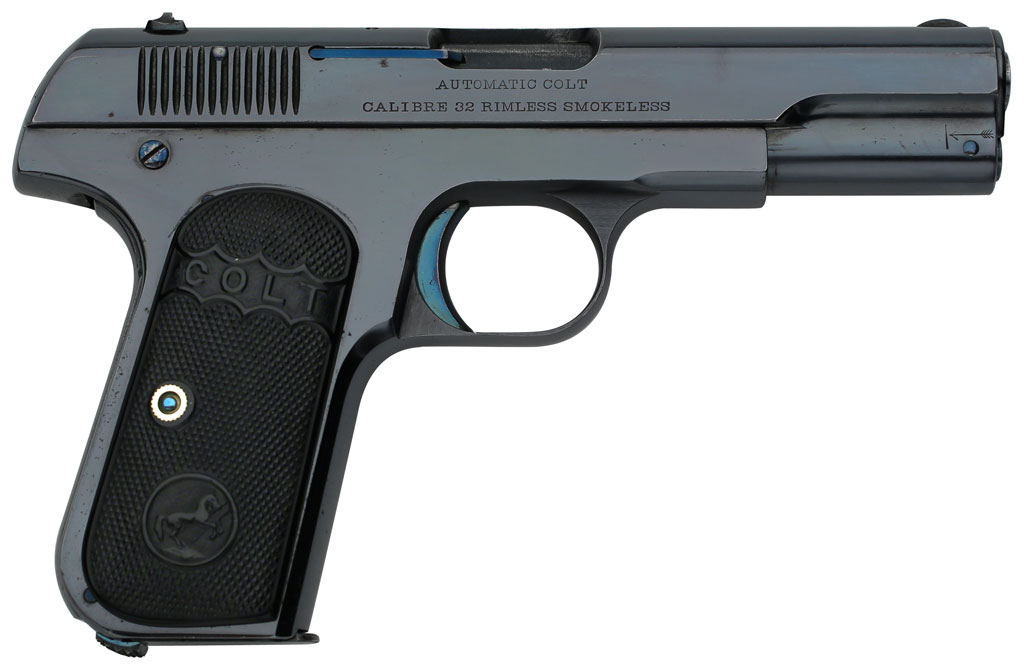 Colt Model 1903 Pocket Hammerless serial number 22899 - right side.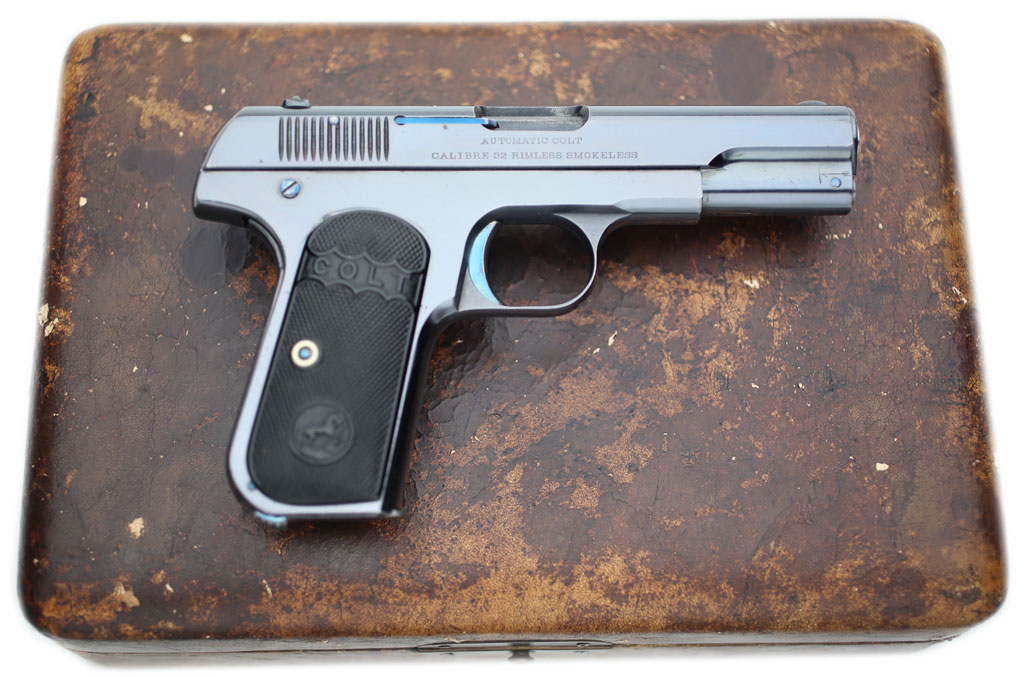 Colt Model 1903 Pocket Hammerless serial number 22899 - right side pictured on top of deluxe leather factory case.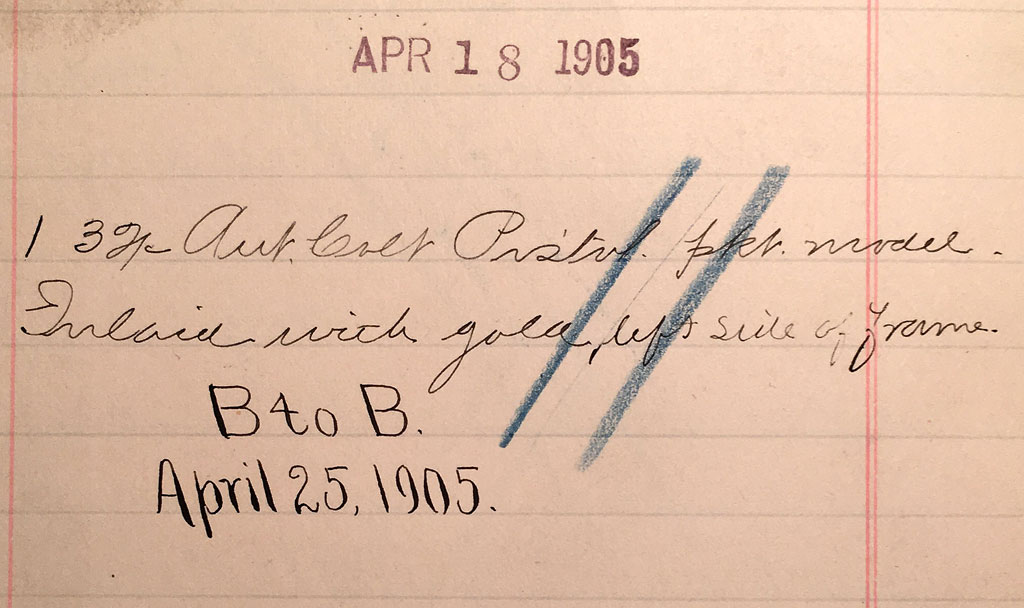 This pistol is a Colt factory special order piece with an extremely rare deluxe factory casing. The order for this Colt is listed in the Colt Special Order Ledger with a description of the special gold inlay and the order date of April 18, 1905. The Colt Historical Letter confirms shipment to Matthew S. Browning on April 22, 1905. The significance of this special gift cannot be underestimated given the close relationship John M. Browning and Matthew S. Browning enjoyed with the Union Metallic Cartridge Company specifically related to UMC's development of the cartridges that all of Browning's semi-automatic inventions relied upon.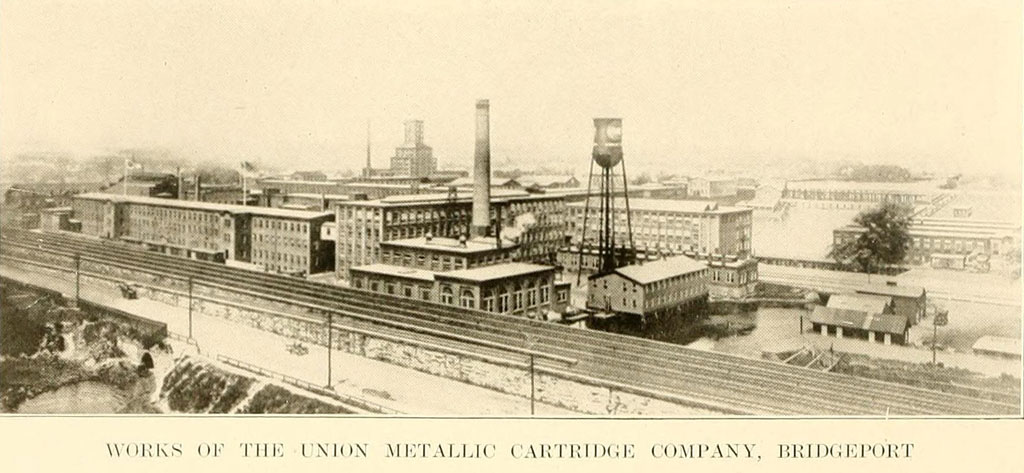 Works of the Union Metallic Cartridge Company, Bridgeport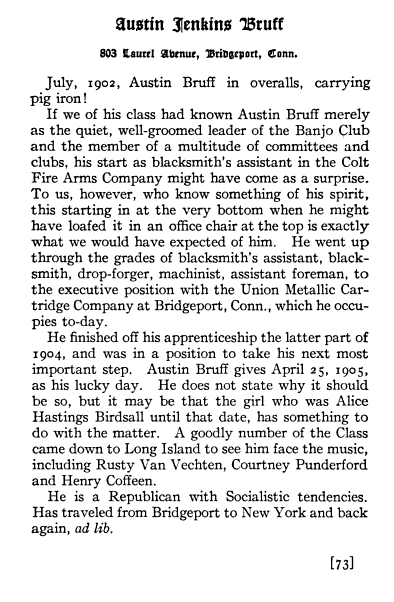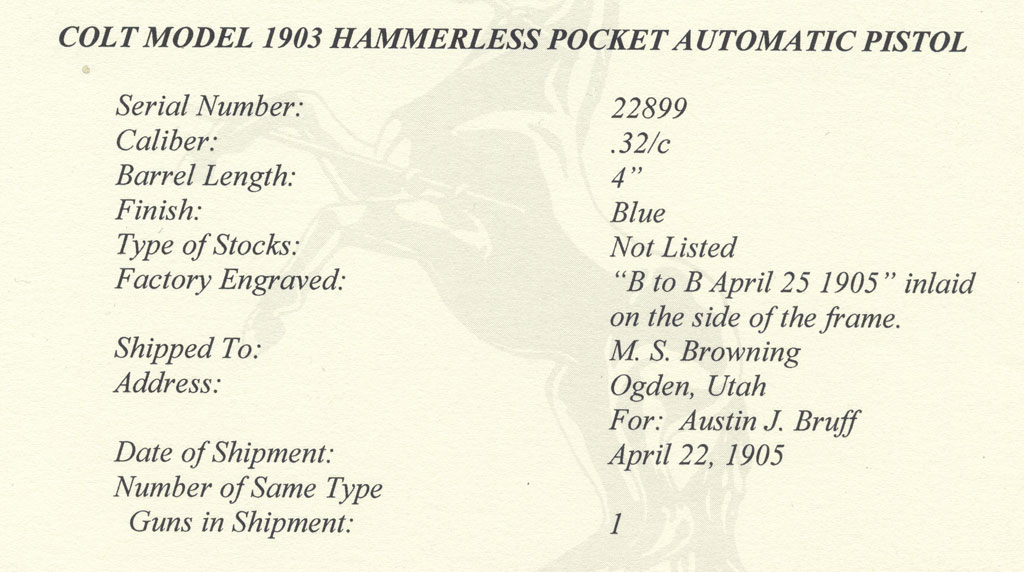 Colt Model 1903 Pocket Hammerless serial number 22899 -Colt factory letter indicates that Colt 1903 serial number 22899, .32/c, 4" barrel was factory engraved "B to B April 25, 1905" inlaid on the side of the frame. Shipped to M.S. Browning, Ogden, Utah For: Austin J. Bruff, Shipped April 22, 1905 in a 1 gun shipment.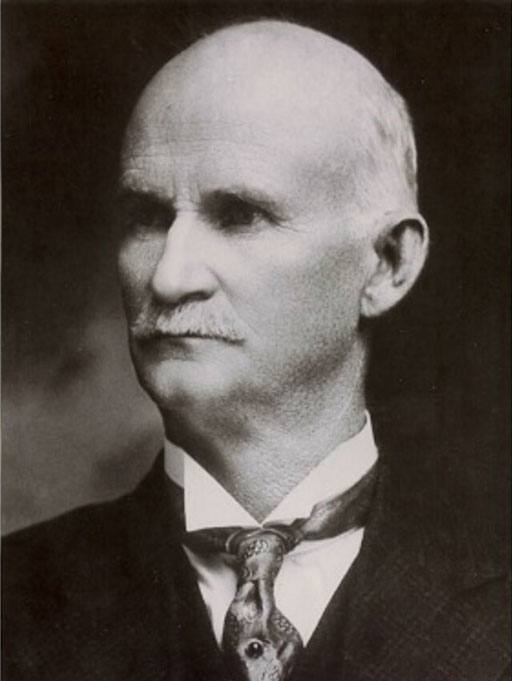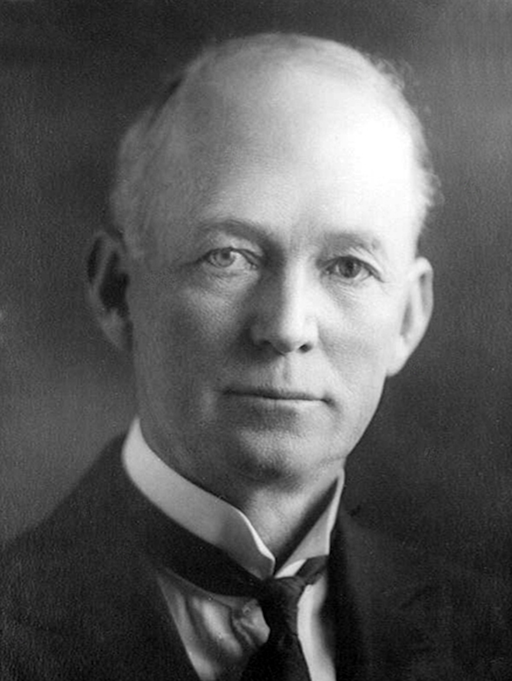 John M. Browning and his brother, Matthew S. Browning
Austin Jenkins Bruff was born on July 29, 1881 in Brooklyn, New York, the second son of Mr. & Mrs. William Jenkins Bruff. William J. Bruff was the president of the Union Metallic Cartridge Company in Bridgeport, Connecticut starting in 1902.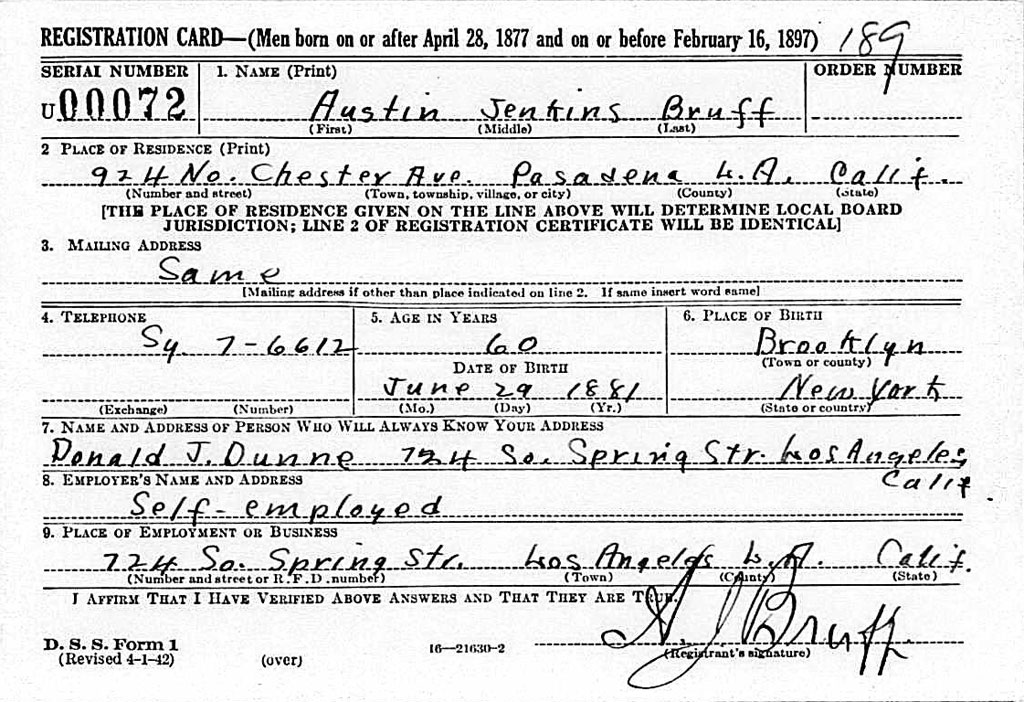 Draft Card for Austin Jenkins Bruff (ca. 1942)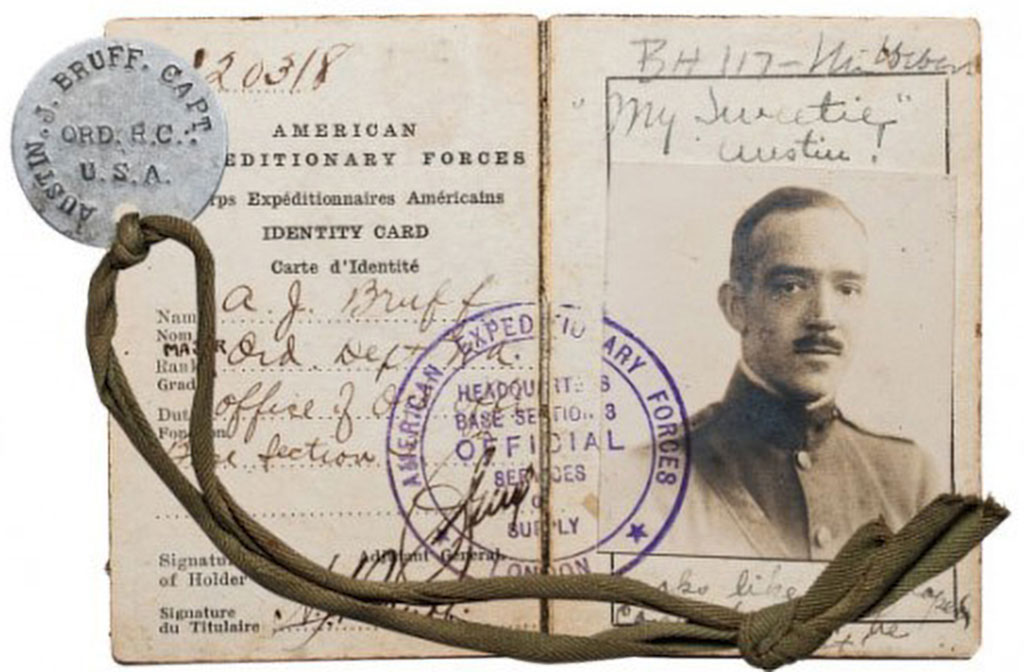 Young Austin attended the best schools, graduating from Phillips Andover Academy at Andover, Massachusetts in 1899 and from Yale University in 1902. Following his graduation, he accepted a position for a short time as a clerk at Colt's Patent Fire Arms Manufacturing Company in Hartford, Connecticut. In 1904, he moved to Bridgeport and accepted a position as a clerk at the Union Metallic Cartridge Company. Following the entry of the US into WWI, Bruff answered his nation's call and enlisted in the U.S. Army where he attained the rank of Colonel serving in France as an Aid to General John J. Pershing.

He received the Distinguished Service Medal prior to his separation from the Army and following his service, returned to New York where he became a successful investment banker working with some prestigious Manhattan firms.
During WWII, Colonel Bruff was reactivated and put in charge of the Army Air Force Contract Renegotiation Service in Los Angeles, California where he received a citation by the War Department for that work.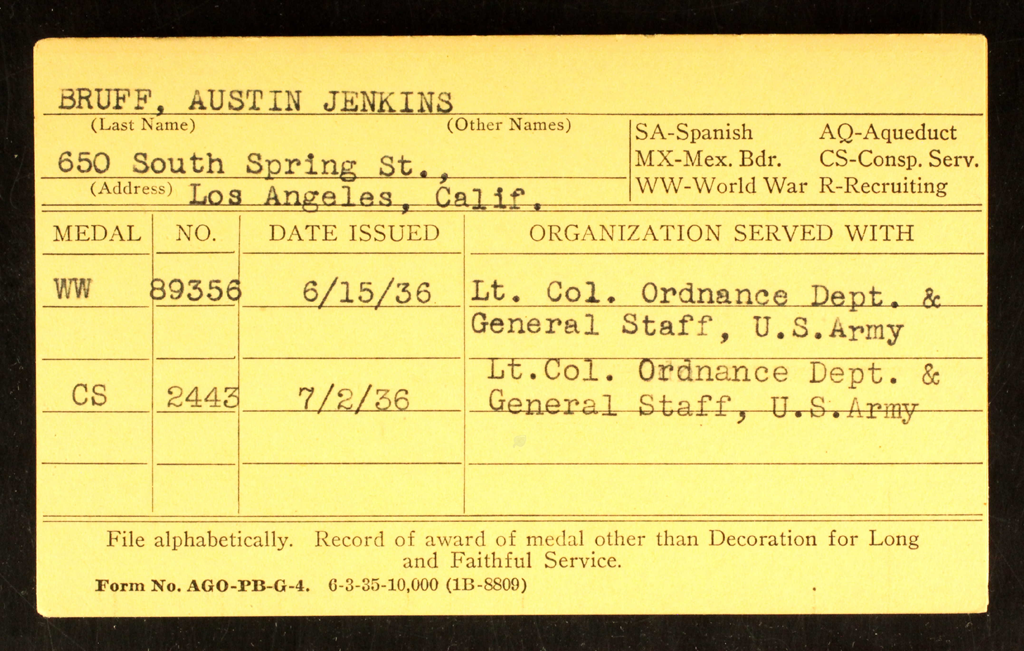 Following WWII, Colonel Bruff settled in Vista, California as a banker. He died there on July 19, 1958, leaving a widow, two daughters Madelyn M. Bruff, Nancy Bruff and a son, William Jenkins Bruff II, born January 11, 1906, who was named for Colonel Bruff's father. William Jenkins Bruff, II lived in Denver, Colorado where he died on December 18, 1973.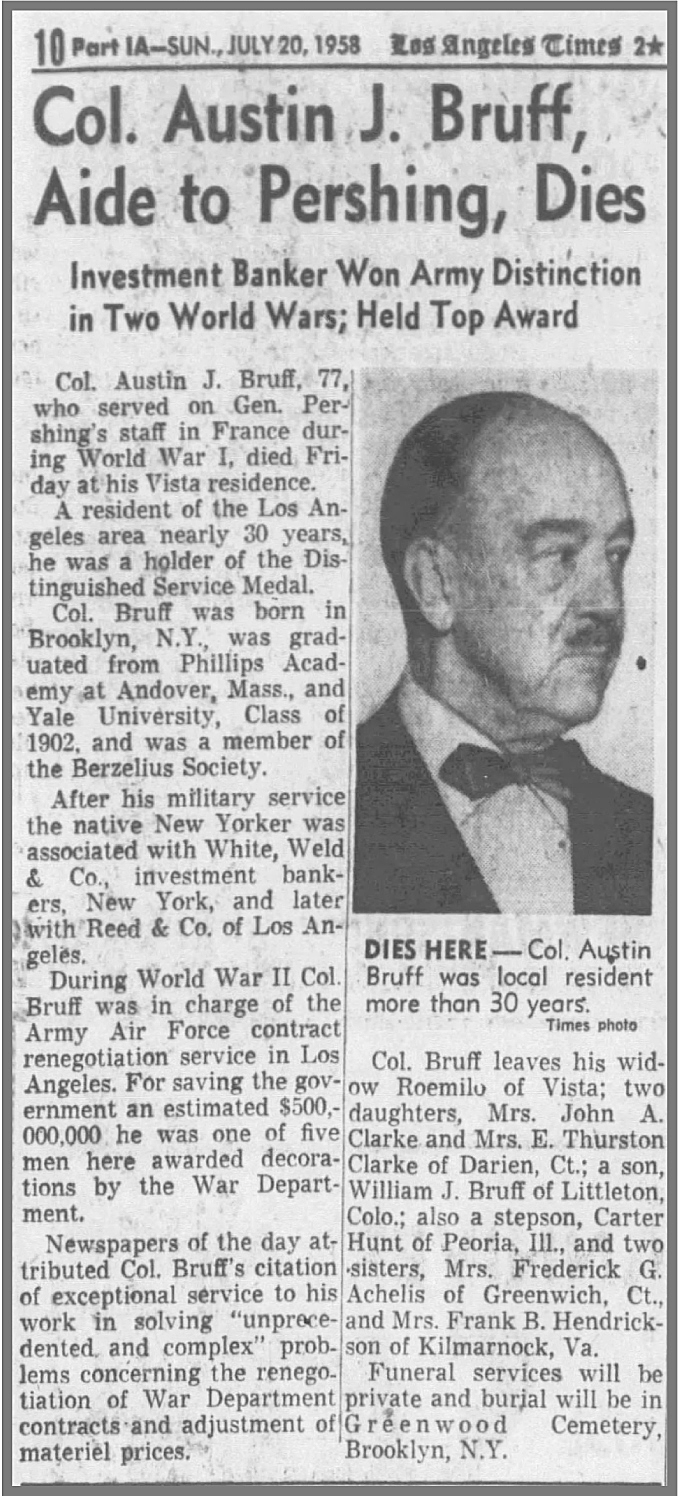 Col. Austin J. Bruff, Aide to Pershing, Dies - Investment Banker Won Army Distinction in Two World Wars; Held Top Award
Los Angeles Times, July 20, 1958
Col. Austin J. Bruff, 77, who served on Gen. Pershing's staff in France during World War I, died Friday at his Vista residence.
A resident of the Los Angeles area nearly 30 years, he was a holder of the Distinguished Service Medal.
Col. Bruff was born in Brooklyn, N.Y., was a graduated from Phillips Academy at Andover, Mass., and Yale University, Class of 1902, and was a member of the Berzelius Society.
After his military service the native New Yorker was associated with White, Weld & Co., investment bankers, New York, and later with Reed & Co. of Los Angeles.
During World War II Col. Bruff was in charge of the Army Air Force contract renegotiation service in Los Angeles. For saving the government an estimated $500,000,000 he was one of five men here awarded decorations by the War Department.
Newspapers of the day attributed Col. Bruff's citation of exceptional service to his work in solving "unprecedented and complex" problems concerning the renegotiation of War Department contracts and adjustment of material prices.
Col. Bruff leaves his widow Roemilo of Vista; two daughters, Mrs. John A. Clarke and Mrs. E. Thurston Clarke of Darien, Ct.; a son, William J. Bruff of Littleton, Colo.; also a stepson, Carter Hunt of Peoria, Ill., and two sisters, Mrs. Frederick G. Achelis of Greenwich, Ct., and Mrs. Frank B. Hendrickson of Kilmarnock, Va.
Funeral services will be private and burial will be in Greenwood Cemetery, Brooklyn, N.Y.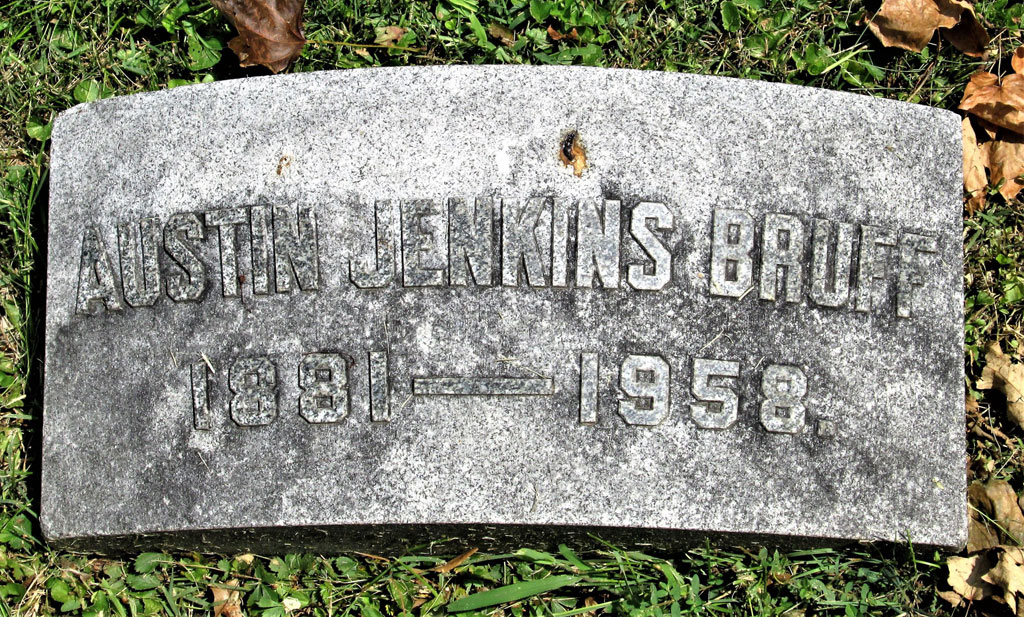 Austin Jenkins Bruff
BIRTH 29 Jun 1881
Brooklyn, Kings County (Brooklyn), New York, USA
DEATH 18 Jul 1958 (aged 77)
Vista, San Diego County, California, USA
BURIAL
Green-Wood Cemetery
Brooklyn, Kings County (Brooklyn), New York, USA
PLOT Lot 11673, Section 102
Source: https://www.findagrave.com/memorial/181673180/austin-jenkins-bruff/photo