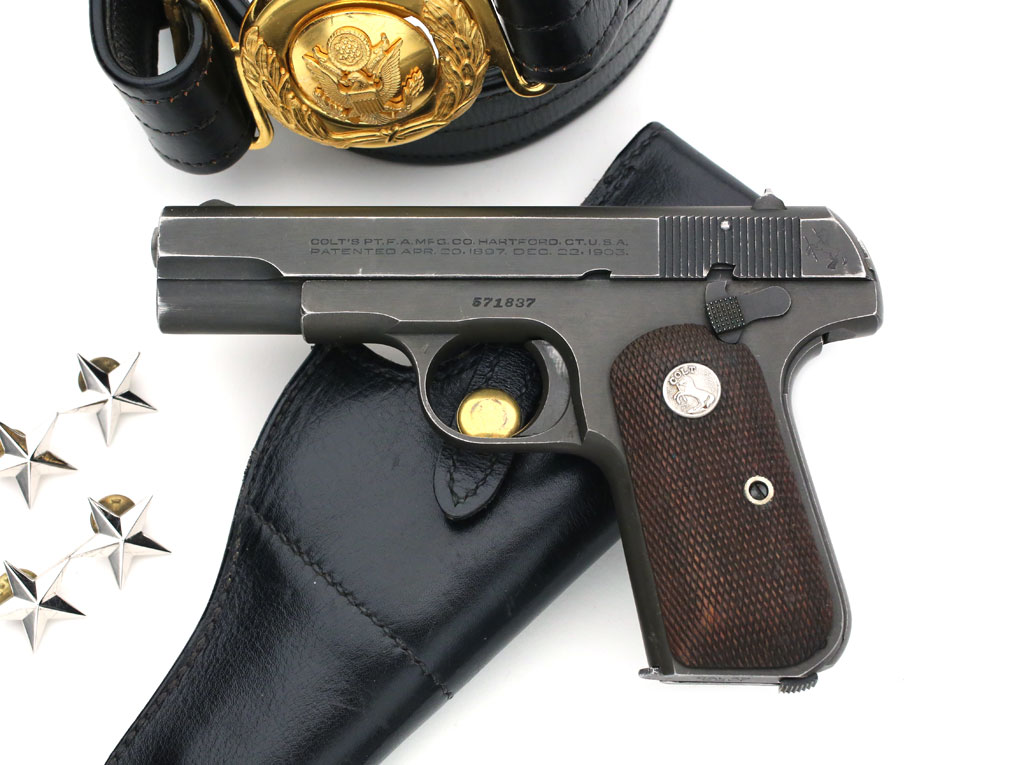 Colt Model 1903 Pocket Hammerless .32 ACP serial number 571837 - A late military Model M .32 ACP pistol, parkerized finish, serial number 571837, with U.S. PROPERTY mark on right side of frame and faint ordnance mark on left rear frame behind thumb safety. Pistol was issued to Major General John "Jack" G. Van Houten, U.S. Army. Major General Van Houten was instrumental in the rebirth of the Army Rangers.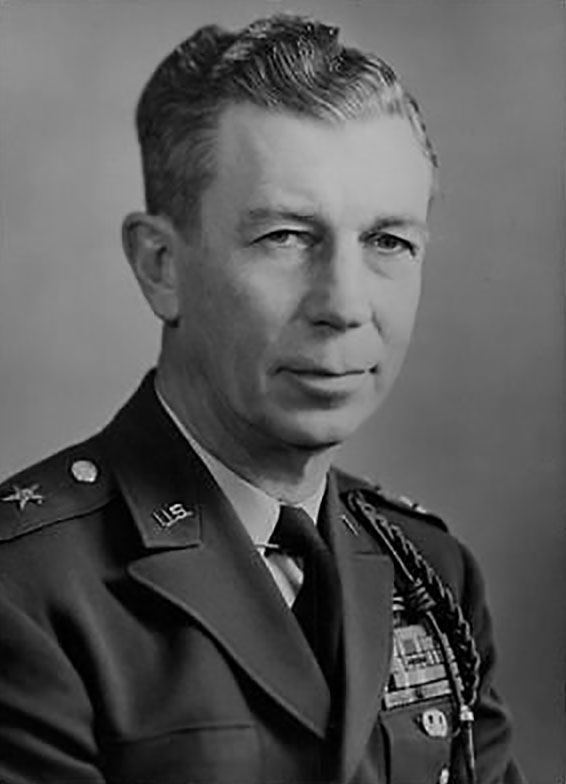 Major General John G. Van Houten
(March 4, 1911 - 23 February 23, 1974)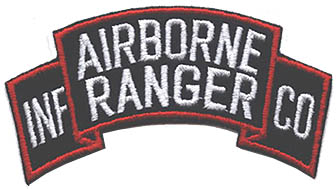 Major General John G. Van Houten was instrumental in the rebirth of the Army Rangers. Van Houten was an experienced combat leader in World War II, commander of the 60th Infantry Regiment, 9th Infantry Division in the savage battle of the Huertgen Forest. At the outbreak of the Korean War, Army Chief of Staff General J. Lawton Collins directed the establishment of the Ranger Training Center at Fort Benning Georgia. As the commander, COL Van Houten instituted a rigorous training program that trained fourteen Ranger companies, six that saw combat in Korea. The Army disbanded the Ranger companies in 1951, but retained the Ranger Training Center to infuse the Army with Ranger-trained soldiers. Van Houten later commanded the 8th Infantry Division and served as the Commander of the Military District of Washington. His legacy is the Ranger Training Brigade at Fort Benning Georgia.
Source: https://arsof-history.org/icons/houten.html
Additional Reading: Rebirth of The Rangers: The Ranger Infantry Companies in Korea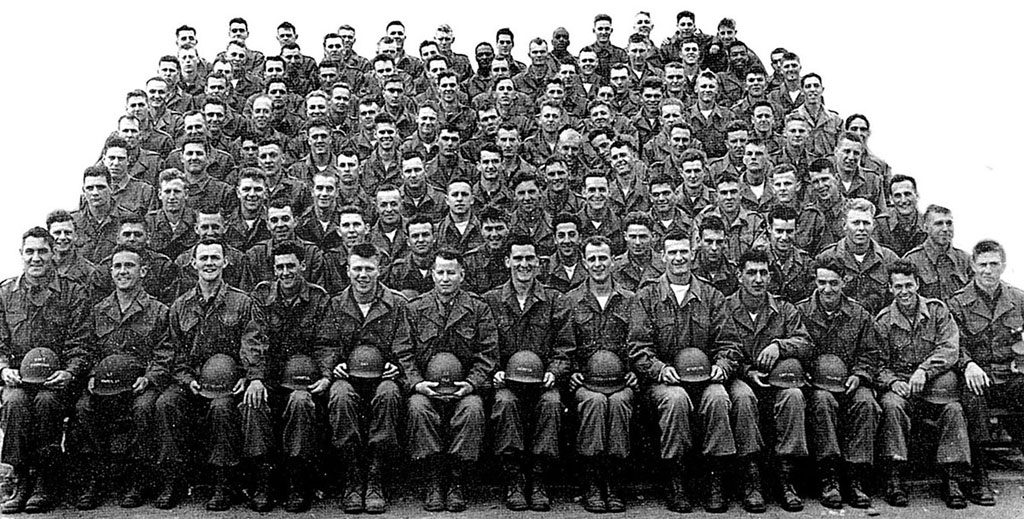 Airborne Class: The Korean War Ranger Companies were airborne units. Those volunteers not already jump qualified attended the Army Parachute School at Fort Benning, Georgia.
Source: https://arsof-history.org/articles/v6n2_rebirth_of_rangers_page_1.html
Major General John Gibson Van Houten
(ASN: O-16669)

11 Mar 1904
B-Bibb, Georgia
17 Sep 1920
Enlisted, United States Army
Jun 1926
Education
BS in Agriculture, University of Georgia
30 Jun 1926
Admitted-Florida, Commissioned 2nd Lieutenant (Cav)
1928
Company D, 29th Infantry Regiment
1930
Education
Infantry School - Company Officer Course
1 Oct 1932
Promoted to 1st Lieutenant
30 June 1936
Promoted to Captain
1939
Headquarters Company, 23rd Infantry Regiment
13 Apr 1940
Residence: San Antonio, Texas
5 Feb 1941
Promoted to Major (Temporary)
1941
Education
Command and General Staff School (college)
1942
Headquarters, 35th Infantry Division
1 Feb 1942
Promoted to Lieutenant Colonel (Temporary)
18 Feb 1943
Promoted to Colonel (Temporary)
30 Jun 1943
Promoted to Major (Permanent)
8 Oct 1944 – 31 Dec 1944

Commanding Officer/Regimental Commander, 60th Infantry Regiment, 9th Infantry Division,
1944

Silver Star
AWARDED FOR ACTIONS DURING World War II
Service: Army
Division: 9th Infantry Division
GENERAL ORDERS:
Headquarters, 9th Infantry Division, General Orders No. 111 (1944)

CITATION:
(Citation Needed) - SYNOPSIS: John G. Van Houten (ASN: O-16669), United States Army, was awarded the Silver Star for conspicuous gallantry and intrepidity in action against the enemy while serving with the 9th Infantry Division during World War II.
1945
Headquarters, 9th Infantry Division
1946
Officer of the Order of Leopold with Swords & Palm
1946
Croix de Guerre with Palm (Belgian Decree #1576)
1949
Education
National War College
1 Aug 1950
Promoted to Colonel (Permanent)
29 Aug 1950
GEN J. Lawton Collins, issued a memorandum directing the establishment of experimental "Marauder" companies to deal with the guerrilla threat during the Korean War.

GEN Collins selected veteran World War II infantry regimental commander Colonel (COL) John G. Van Houten, to assemble and train the Ranger companies. His deputy was COL Edwin A. Walker, former commander of the WWII First Special Service Force.

15 Sep 1950
The Ranger Training Center is formed at the U.S. Army Infantry Center at Fort Benning, GA. The training facility was to be established and staffed to train the first volunteers by 1 October 1950.
6 Aug 1951
Colt 1903 Pocket Hammerless .32 ACP pistol serial number 571837
Shipped to: BG John G. Van Houten
Camp Atterbury, Indiana, with Right hand GO holster
National Stock Number: 1005-00-317-2468
1954

Commanding General, 8th Infantry Division, Fort Carson, Colorado
Headquarters, 8th Infantry Division

Legion of Merit

Bronze Star Medal with Oak Leaf Cluster

Air Medal
Army of Occupation Medal with Germany Clasp
Combat Infantry Badge
European-African-Middle Eastern Campaign Medal with 1 silver star
WWII Victory Medal
National Defense Service Medal
6 Feb 1956

Commanding General, Military District of Washington
1961
Army Council of the Review Boards, Washington, D.C.
17 Jul 1961
Retired from the U.S. Army, Major General
19 Jul 1961

Army Distinguished Service Medal
AWARDED FOR ACTIONS DURING Cold War
Service: Army
Rank: Major General

GENERAL ORDERS:
Department of the Army, General Orders No. 23 (July 19, 1961)

CITATION:
The President of the United States of America, authorized by Act of Congress July 9, 1918, takes pleasure in presenting the Army Distinguished Service Medal to Major General John G. Van Houten (ASN: O-16669), United States Army, for exceptionally meritorious and distinguished services to the Government of the United States, in duties of great responsibility from August 1951 to June 1961.
23 Feb 1974



D - Paranagua, Parana, Brazil,
Burial: Fort Sam Houston National Cemetery
San Antonio, Bexar County, Texas, USAPlot: Section V Site 260
Memorial ID: 60604227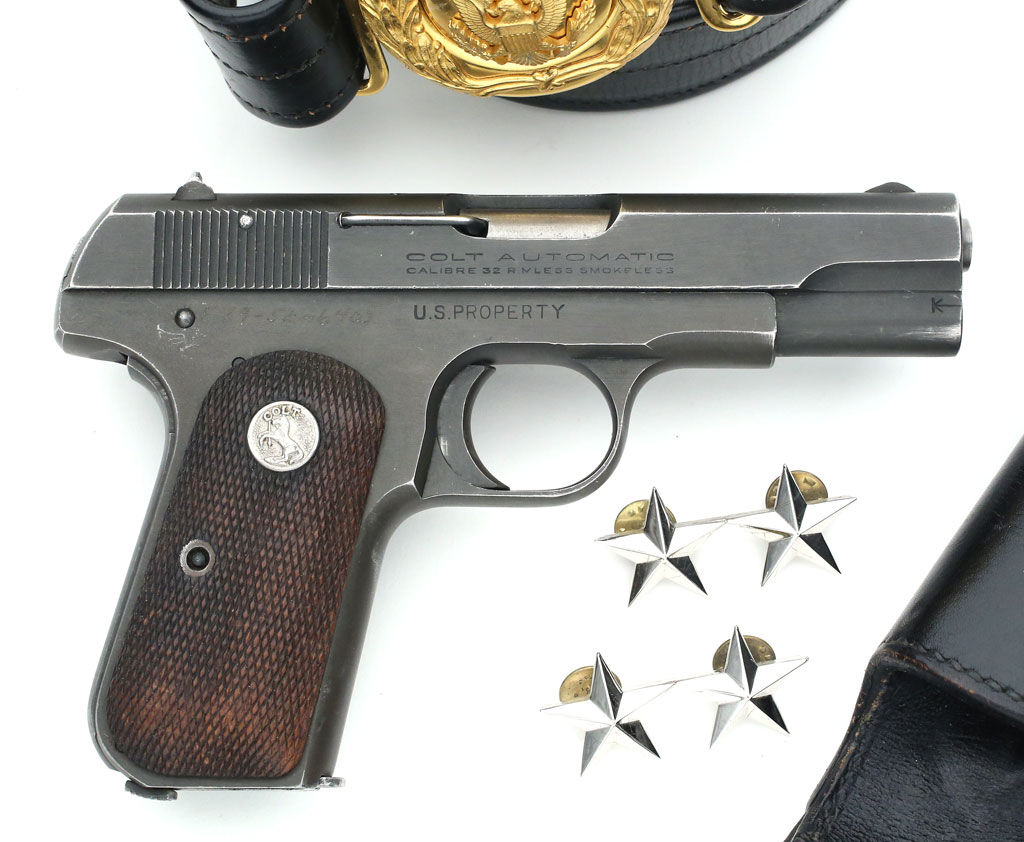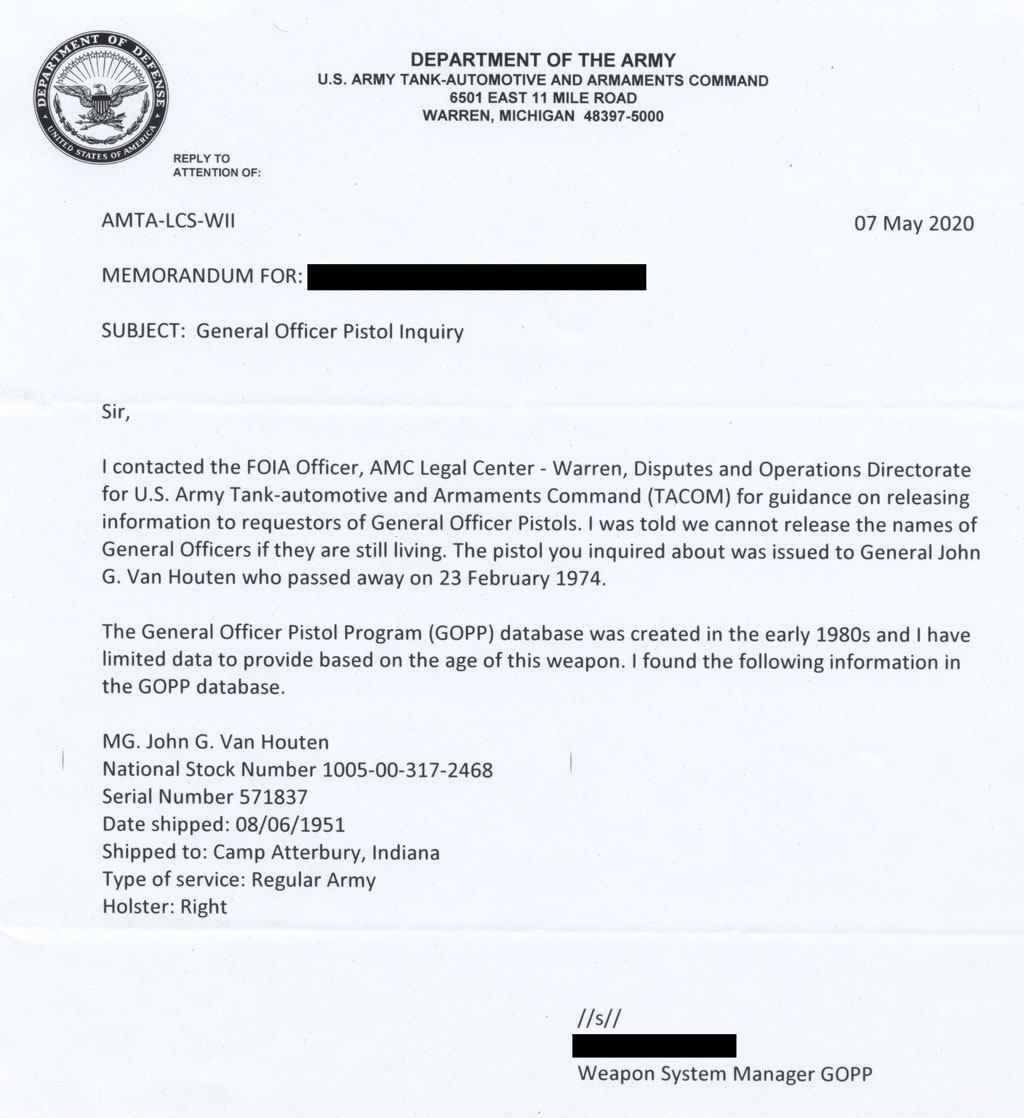 Colt Model 1903 Pocket Hammerless .32 ACP serial number 571837 - U.S. PROPERTY roll mark on right side of frame. Also on the right side of the frame is MG Van Houten's social security number that he engraved on the gun.
MAJOR GENERAL JOHN G. VAN HOUTEN
2006 INDUCTION TO THE RANGER HALL OF FAME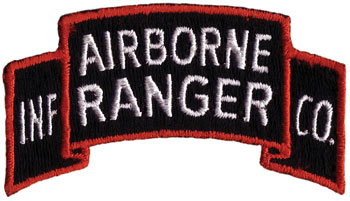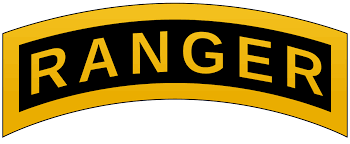 MG John Gibson Van Houten is being inducted into the Ranger Hall of Fame for his exemplary leadership, dedication and inspiration to the Ranger Course over a career that began as a 2LT in 1926 and culminated as the Commanding General of the Military District of Washington. Following the outbreak of the Korean War, the Chief of Staff of the United States Army selected Colonel John G. Van Houten to head the Ranger Training Command which consisted of a headquarters detachment and four Airborne Ranger Infantry Companies at Fort Benning, Georgia. Known for his ruthless sorting out process of the volunteer Soldiers, Colonel Van Houten held the members of the Ranger Companies to extremely high standards. His men willingly accepted "extremely hazardous" duty in the combat zone in the Far East. Ranger Van Houten is considered one of the four men at the cornerstone of Ranger training, developing and implementing a training plan that was the predecessor to the current Ranger Training Brigade. Recognizing that a Ranger is a more elite soldier, Colonel Van Houten fought for and was authorized by the Department of the Army to award the graduating volunteers the black and gold ranger tab. His trained volunteers accomplished incredible feats during the Korean War, including 4th Ranger Company's daring over-water raid at the Hwachon Dam. As the initial Head of the now Ranger Training Brigade, MG Van Houten recruited and trained soldiers that were mentally fit, physically strong, and morally straight, and that Led the Way in every mission.
(Source: https://www.benning.army.mil/infantry/artb/RHOF/index.html)
Rangers All the Way!
by Chris Semancik, Army Heritage Museum - September 16, 2008
International strategic threats can materialize at any moment. The eruption of the Korean War in June of 1950 posed such a threat. Responding to initial successes of enemy infiltration tactics that summer, Army Chief of Staff General J. Lawton Collins authorized the establishment of four companies of Airborne Rangers and selected Colonel John Gibson Van Houten to establish an Airborne Ranger Training Program at Fort Benning, Georgia. Although the U.S. Army had raised seven battalions of Rangers during World War II, along with the 1st Special Service Force and several Marauder and OSS detachments, these highly trained specialized groups were disbanded after the cessation of hostilities.

The Ranger training program that was envisioned by Colonel Van Houten would combine the best of the lessons learned of training, doctrine and equipment from the various elite forces that had existed in World War II. Van Houten and a small staff worked quickly to assemble the finest experienced men still in service who had seen action in former elite forces, including several hand-picked individuals who had served in either allied or former adversary commando type organizations and who were now serving as United States citizens in the U.S. Army.

This select cadre of career Army officers and NCOs turned a disused, secluded portion of the barracks at Fort Benning, Georgia, into an advanced training camp in just five days. Working around the clock, from September 15 to September 20, when the first Ranger volunteers arrived, the Ranger Training Command created a tough, realistic training environment which included extreme physical training, live-fire exercises, and advanced field problems executed in all weather and terrain conditions day or night.

Along with amphibious training, the new organization would be airborne qualified. Colonel Van Houten made airborne status mandatory for each Ranger and did not exempt himself or the training cadre. Advanced infiltration techniques formed the core of the Benning program, including intelligence gathering, foreign weapons mastery, strongpoint demolition, escape and evade procedures, foreign map reading, and language skills. Learning such techniques made the units capable of the most extreme operations behind enemy lines.

The 1st Ranger Company, numbering 112 men, entered into combat in Korea on December 17, 1950, as an attached element of the 2nd Infantry Division and quickly proved itself by destroying the headquarters of 12th North Korean Division nine miles behind enemy lines. More units from Fort Benning rapidly followed and engaged in a variety of special missions and daring actions, including a combat jump into Munsan-Ni by the 2nd and 4th Ranger Companies, followed by an amphibious assault on the Hwachon Dam by elements of the 4th, and a legendary no-man's-land battle which pitted 33 men of the 8th Ranger Company against two Chinese reconnaissance units in front of the U.S. 24th Infantry Division.

Despite such impressive service, the U.S. Army inactivated the six Ranger companies in Korea in August, 1951. The following month, the Army inactivated the remaining nine Ranger companies and disbanded the Ranger Training Command. Thereafter Ranger training would be provided through a Ranger Department of the Infantry School at Fort Benning. The trainees, however, would no longer serve in distinct Ranger companies but would return to their parent organizations.

The War in Vietnam would once again see the use of Ranger companies, but it was not until 1974 that the U.S. Army authorized its first permanent peace-time Ranger unit by General Order 127, creating the 1st and 2nd Battalions of the 75th U.S. Infantry. Rangers of the 75th have subsequently been called upon to rapidly deploy in various operations around the world right up to the present day.

As a point of interest and Ranger pride, photographic evidence documents the Rangers training at Ft. Benning in 1950 wearing patrol caps with the brims removed, anticipating the Ranger beret, which has become an internationally recognized symbol of these elite forces. The Korean Airborne Rangers were truly Rangers -- Rangers all the way!
(source: https://www.army.mil/article/12478/rangers_all_the_way)